Home
Apr 15, 2015
This week's theme
Words related to books
This week's words
colophon
recto
bibliogony
codex
opisthograph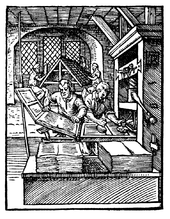 Printing press, a woodcut from 1568
Image: Wikimedia
---






A.Word.A.Day

with Anu Garg


bibliogony
PRONUNCIATION:
(bib-lee-OG-uh-nee)




MEANING:

noun: The art of producing or publishing books. Also known as bibliogenesis.




ETYMOLOGY:

From Greek biblio- (book) + -gony (origin). Earliest documented use: 1835.




USAGE:

"The author also appreciates the liberal expenditures of the company for the publication of the volume in an excellent style of bibliogony."
Miland Austin Knapp; Teeth Regulation; 1900.




A THOUGHT FOR TODAY:

The greatest analgesic, soporific, stimulant, tranquilizer, narcotic, and to some extent even antibiotic -- in short, the closest thing to a genuine panacea -- known to medical science is work. -Thomas Szasz, author, professor of psychiatry (15 Apr 1920-2012)


A.Word.A.Day by email:

Subscribe

"The most welcomed, most enduring piece of daily mass e-mail in cyberspace."