Home
Jan 15, 2015
This week's theme
There's a word for it
This week's words
apricate
ascesis
senary
arenicolous
pregustator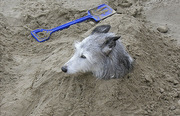 ---






A.Word.A.Day

with Anu Garg


arenicolous
PRONUNCIATION:
(ar-uh-NIK-uh-luhs)




MEANING:

adjective: Living, growing, or burrowing in sand.




ETYMOLOGY:

From Latin harena/arena (sand) + colere (to inhabit). Earliest documented use: 1851.




USAGE:

"'Where have you disappeared to? Where have you been living?' I asked Tariq. ... 'Are you trying to tell me that he lives like arenicolous worms?'"

Jamal S. Jumah;

The Artistic Visage of Dalia

; Xlibris; 2010.

See more usage examples of

arenicolous

in Vocabulary.com's

dictionary

.




A THOUGHT FOR TODAY:

It is not what we do, but also what we do not do, for which we are accountable. -Moliere, actor and playwright (15 Jan 1622-1673)


A.Word.A.Day by email:

Subscribe

"The most welcomed, most enduring piece of daily mass e-mail in cyberspace."