Home
Apr 13, 2017
This week's theme
Eponyms from Greek mythology
This week's words
orphic
myrmidon
nemesis
amazon
muse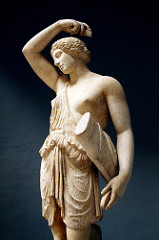 The Wounded Amazon
Roman copy of the original by Kresilas (c. 430 BCE), Vatican, Rome
---






A.Word.A.Day

with Anu Garg


amazon
PRONUNCIATION:
(AM-uh-zon, -zuhn)




MEANING:

noun: A tall, strong, powerful woman.




ETYMOLOGY:

In Greek mythology, Amazons were a race of women warriors in Scythia (in modern Russia). One of the labors of Hercules was to obtain the magical girdle from the Amazon queen Hippolyta. Earliest documented use: 1398.




USAGE:

"You're tall ... I ask for a clerk, and they send me an Amazon."

Kathleen Tessaro;

Rare Objects

; Harper; 2016.

See more usage examples of

amazon

in Vocabulary.com's

dictionary

.




A THOUGHT FOR TODAY:

What can be asserted without evidence can be dismissed without evidence. -Christopher Hitchens, author and journalist (13 Apr 1949-2011)


A.Word.A.Day by email:

Subscribe

"The most welcomed, most enduring piece of daily mass e-mail in cyberspace."