Home
Apr 17, 2017
This week's theme
Well-traveled words
This week's words
cramoisy
kaput
lilac
alembic
talisman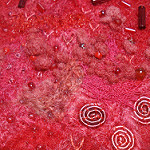 ---






A.Word.A.Day

with Anu Garg

At one time people ate what was grown around them. If they woke up after a long sleep and didn't know what time of the year it was, they could just look at the food on the table and make a pretty good guess. With technologies such as refrigeration and air travel, things have changed. Today, a typical grocery store might have lettuce from Spain, avocados from Mexico, and pomegranates from Israel.

While this level of food travel is relatively new, words have been traveling across oceans for a long time. The word orange came to us from a Dravidian language, stopping by several ports along the way: Sanskrit, Persian, Arabic, Italian, and French. By the time it reached us, it must have been fully ripe.

This week we'll feature five words that have crossed many oceans before reaching the shores of the English language.
cramoisy
PRONUNCIATION:
(KRAM-oi-zee, kruh-MOI-)




MEANING:

adjective: Of a crimson color.
noun: Crimson cloth.




ETYMOLOGY:

From French cramoisi, from Spanish carmesi, from Arabic qirmizi (of kermes). Earliest documented use: 1423.




USAGE:

"The whippet Narcisse would sit at table upon a cramoisy cushion."
Geoffrey Wolff; Black Sun; Random House; 1976.




A THOUGHT FOR TODAY:

Everybody's talking about people breaking into houses but there are more people in the world who want to break out of houses. -Thornton Wilder, writer (17 Apr 1897-1975)


We need your help

Help us continue to spread the magic of words to readers everywhere

Donate