Home
Jan 15, 2018
This week's theme
Words of nautical origins
This week's words
copper-bottomed
flotsam
leeway
jetsam
groggy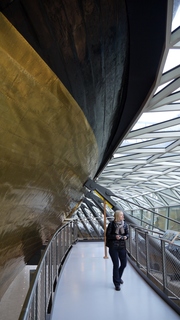 Copper-bottomed British clipper ship Cutty Sark, built in 1869
[Psst... it's actually brass (copper + zinc)]
---






A.Word.A.Day

with Anu Garg

The economy class in an airplane is called steerage even though passengers do not have to steer the jumbo jet. That's because earlier the lowest deck on a ship was the cheapest. It was called steerage because it was located above the steerage gear.

These days you may not board a boat for years, but chances are you use nautical terminology every day. When you say that someone is "adrift" or "unmoored", when you are "taken aback", when you find someone is "under the weather" -- in all cases, you are invoking nautical lingo.

This week we'll see five terms of nautical origins, now used metaphorically.

Enough talking! All aboard! Let's get under way.
copper-bottomed
PRONUNCIATION:
(kop-uhr-BOT-uhmd)




MEANING:

adjective: Reliable, genuine, or trustworthy.




ETYMOLOGY:

From the practice of covering a ship's hull with copper (or alloy) to protect it from salt water and marine organisms. Earliest documented use: 1795. Don't confuse this term with

copperplate

.




USAGE:

"In those circumstances, even copper-bottomed facts become contentious."

Alex Massie; Breaking News: There Are Such Things as Facts;

The Times

(London, UK); Feb 22, 2017.

See more usage examples of

copper-bottomed

in Vocabulary.com's

dictionary

.




A THOUGHT FOR TODAY:

It is a convenient trick to rob a person of all they have, even their own body, and then mock them for their poverty, and blame it on their nature. -Adam Serwer, writer and editor [Read the full article]


We need your help

Help us continue to spread the magic of words to readers everywhere

Donate