Home
Sep 21, 2005
This week's theme
Words about words
This week's words
autonym
backronym
ananym
charactonym
anonym
---
A Word A Day
the book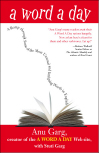 "Delightful."
-The New York Times
Buy
---

Discuss

Feedback

RSS/XML
---






A.Word.A.Day

with Anu Garg


ananym


ananym (AN-uh-nim) noun
A name formed by reversing letters of another name, often used as a pseudonym.
[From Greek ana- (back) + -onym (name).]
Examples:
Talk show host Oprah's production company is named Harpo.
Doctor Seuss (Theodore Geisel) wrote many books under the name Theo LeSieg.
Samuel Butler wrote a satirical novel Erewhon (near reverse of Nowhere).
"Rongis was an ananym -- so named by an employee of the stagecoach company whose own name was Ali Signor."
John McPhee; Rising from the Plains; Farrar, Straus and Giroux; 1986.
X-Bonus
The bitterest tears shed over graves are for words left unsaid and deeds left undone. -Harriet Beecher Stowe, abolitionist and novelist (1811-1896)
We need your help

Help us continue to spread the magic of words to readers everywhere

Donate