Home
Dec 4, 2013
This week's theme
Illustrated words
This week's words
felicitous
disprize
ineluctable
malinger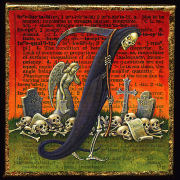 ---






A.Word.A.Day

with Anu Garg


ineluctable
PRONUNCIATION:
(in-i-LUHK-tuh-buhl)




MEANING:

adjective: Impossible to avoid: inescapable.




ETYMOLOGY:

From Latin in- (not) + eluctari (to struggle out of), from ex- (out) + luctari (to struggle). Earliest documented use: 1623.




USAGE:

"These qualms were squashed out of existence by the ineluctable pressure of necessity."
Kate Christensen; In the Drink; Doubleday; 1999.


Explore "ineluctable" in the Visual Thesaurus.



A THOUGHT FOR TODAY:

Truth does not change according to our ability to stomach it. -Flannery O'Connor, writer (1925-1964)


Gift Subscription:

Share the joy of words with a friend: send a gift subscription of A.Word.A.Day or the book, a #1 Amazon.com bestseller.

Sponsored by: