Home
Apr 16, 2015
This week's theme
Words related to books
This week's words
colophon
recto
bibliogony
codex
opisthograph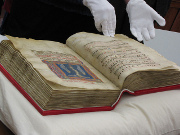 Codex Sancti Paschalis
---






A.Word.A.Day

with Anu Garg


codex
PRONUNCIATION:
(KOH-deks)




MEANING:

noun: A manuscript volume (as opposed to a scroll), especially of an ancient text.




ETYMOLOGY:

From Latin codex (tree trunk, wood block, book). Earliest documented use: 1581.




USAGE:

"The most legendary is the Voynich manuscript (a handwritten codex carbon-dated to the 15th century and thought to have originated in Central Europe), which cryptographers have still yet to solve."

David Kushner; The Web's Deepest Mystery;

Rolling Stone

(New York); Jan 29, 2015.

See more usage examples of

codex

in Vocabulary.com's

dictionary

.




A THOUGHT FOR TODAY:

Never lend books -- nobody ever returns them; the only books I have in my library are those which people have lent me. -Anatole France, novelist, essayist, Nobel laureate (16 Apr 1844-1924)


Gift Subscription:

Share the joy of words with a friend: send a gift subscription of A.Word.A.Day or the book, a #1 Amazon.com bestseller.

Sponsored by: