Home
Oct 17, 2017
This week's theme
Words made with combining forms
This week's words
kleptomania
stenophagous
pantophobia
hagiology
endogenous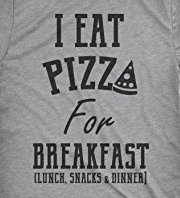 "I eat pizza for breakfast, lunch, snacks, and dinner"
---






A.Word.A.Day

with Anu Garg


stenophagous
PRONUNCIATION:
(stuh-NOF-uh-guhs)




MEANING:

adjective: Feeding on a limited variety of food.




ETYMOLOGY:

From Greek steno- (narrow, small) + -phagous (feeding on). Earliest documented use: 1926.




USAGE:

"I would hope you're not as big a glutton as you sound, but from the stench alone, you could hardly be stenophagous."
Neil Baker; Occultus Liber; AuthorHouse; 2014.




A THOUGHT FOR TODAY:

Don't be seduced into thinking that that which does not make a profit is without value. -Arthur Miller, playwright and essayist (17 Oct 1915-2005)


A.Word.A.Day by email:

Subscribe

"The most welcomed, most enduring piece of daily mass e-mail in cyberspace."