Home
Oct 24, 2017
This week's theme
Coined words
This week's words
mimsy
scare quote
proxemics
muppet
bafflegab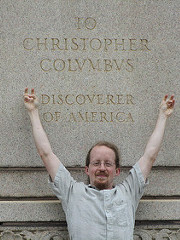 Columbus, "Discoverer of America"
---






A.Word.A.Day

with Anu Garg


scare quote
PRONUNCIATION:
(SKAIR kwoht)




MEANING:

noun: The quotation marks used to indicate that the quoted word or phrase is incorrect, nonstandard, or ironic.




ETYMOLOGY:

Coined by the philosopher G.E.M. Anscombe in 1956. The equivalent term in spoken communication is air quotes.




NOTES:

Scare quotes are used to indicate the writer's disagreement or disapproval of the use of the term.

Example: Some consider Trump to be the "

greatest

" president ever.




USAGE:

"Caspar always thought of his 'time machine' thus, with scare quotes around it, since it was not really a machine, and Caspar did not believe in time."

Gardner Dozois;

The Year's Best Science Fiction

; St. Martin's Press; 1990.

See more usage examples of

scare quote

in Vocabulary.com's

dictionary

.




A THOUGHT FOR TODAY:

Inspiration does not come like a bolt, nor is it kinetic, energetic striving, but it comes into us slowly and quietly and all the time, though we must regularly and every day give it a little chance to start flowing, prime it with a little solitude and idleness. -Brenda Ueland, journalist, editor, and writer (24 Oct 1891-1985)


A.Word.A.Day by email:

Subscribe

"The most welcomed, most enduring piece of daily mass e-mail in cyberspace."