Home
Oct 26, 2017
This week's theme
Coined words
This week's words
mimsy
scare quote
proxemics
muppet
bafflegab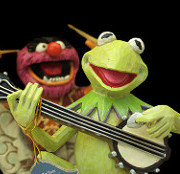 ---






A.Word.A.Day

with Anu Garg


muppet
PRONUNCIATION:
(MUHP-it)




MEANING:

noun: A stupid person; a fool.




ETYMOLOGY:

Coined by Jim Henson (1936-1990) in 1955 to describe puppets he created for children's television shows.




USAGE:

"Had she made a complete muppet of herself?"
Heidi Rice; The Virgin's Shock Baby; Harlequin; 2017.




A THOUGHT FOR TODAY:

The worst thing that can happen in a democracy -- as well as in an individual's life -- is to become cynical about the future and lose hope: that is the end, and we cannot let that happen. -Hillary Clinton, secretary of state and senator (b. 26 Oct 1947)


A.Word.A.Day by email:

Subscribe

"The most welcomed, most enduring piece of daily mass e-mail in cyberspace."