Home
Feb 16, 2011
This week's theme
Polysemantic words
This week's words
fell
pip
parity
seadog
fluke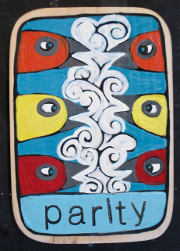 ---

Discuss

Feedback

RSS/XML
---









A.Word.A.Day

with Anu Garg


parity
PRONUNCIATION:

(PAR-i-tee)

MEANING:

noun: Equality in amount, status, etc.



ETYMOLOGY:

Via French from Latin paritas, from par (equal). Earliest documented use: 1572.



USAGE:

"That means that the parity of the Australian dollar against the greenback, loved by Aussies heading overseas but hated by exporters, is more accident than design."
Ian McIlwraith; Pressure on China for Yuan Move; The Sydney Morning Herald (Australia); Nov 12, 2010.


---
MEANING:

noun:
1. The condition of having given birth.
2. The number of children borne by a woman.



ETYMOLOGY:

From Latin parere (to give birth). Earliest documented use: 1877.



USAGE:

"It wasn't just ageing parity -- women waiting until their mid-30s to have a child -- that forced the change."
Zoe Williams; How the Inventor of the Pill Changed the World for Women; The Guardian (London, UK); Oct 30, 2010.


---
See more usage examples of parity in Vocabulary.com's dictionary.



A THOUGHT FOR TODAY:

I have gained this by philosophy: that I do without being commanded what others do only from fear of the law. -Aristotle, philosopher (384-322 BCE)


We need your help

Help us continue to spread the magic of words to readers everywhere

Donate