Home
Aug 28, 2015
This week's theme
Eponyms
This week's words
lorelei
Paul Pry
boycott
chauvinism
lovelace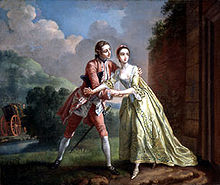 Robert Lovelace preparing to abduct Clarissa Harlowe
Art: Francis Hayman (1708-1776)
This week's comments
AWADmail 687
Next week's theme
Verbs
---






A.Word.A.Day

with Anu Garg


Lovelace
PRONUNCIATION:
(LUV-lays)




MEANING:

noun: A seducer; a licentious man.




ETYMOLOGY:

After Robert Lovelace, a dissolute character in Samuel Richardson's novel

Clarissa

(1748). Earliest documented use: 1751. Other eponyms with similar senses are

Casanova

,

Don Juan

, and

Romeo

.




USAGE:

"He could not be made to understand that the modern drama of divorce is sometimes cast without a Lovelace. 'You might as well tell me there was nobody but Adam in the garden when Eve picked the apple. You say your wife was discontented? No woman ever knows she's discontented till some man tells her so.'"
Edith Wharton; The Custom of the Country; 1913.




A THOUGHT FOR TODAY:

If only the sun-drenched celebrities are being noticed and worshiped, then our children are going to have a tough time seeing the value in the shadows, where the thinkers, probers and scientists are keeping society together. -Rita Dove, poet (b. 28 Aug 1952)


A.Word.A.Day by email:

Subscribe

"The most welcomed, most enduring piece of daily mass e-mail in cyberspace."