Home
Dec 15, 2008
This week's theme
Toponyms from India
This week's words
golconda
doolally
jodhpurs
calico
tamarind
Golconda Fort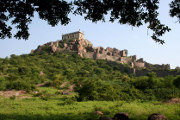 ---
Give a gift that ...
keeps on giving,
all year long:
A gift subscription of AWAD
or
give the gift of books
---

Discuss

Feedback

RSS/XML

A.Word.A.Day

with Anu Garg

Namaste from India! I've just landed in Mumbai, where I'm planning to spend the rest of this year.

Mumbai was formerly known by its anglicized spelling, Bombay. The name of the city is derived from Mumba (name of a goddess) + ai (mother in the Marathi language). Each place has a story, and this week we'll visit five places from India that have become words in the English language.
golconda
PRONUNCIATION:

(gol-KON-duh)

MEANING:

noun: A source of great wealth.



ETYMOLOGY:

After Golconda, a ruined city in southern India, once known for its diamond mines in the nearby hills.



USAGE:

"Nanotechnologies is a fancy name that excites millions of gullible simpletons who believe there's a golconda behind every rinky-dink, small company in the nano-business."
Malcolm Berko; Firm's New Battery Has Strong Negative Charge; Beacon News (Aurora, Illinois); May 23, 2007.

See more usage examples of golconda in Vocabulary.com's dictionary.



A THOUGHT FOR TODAY:

You can sometimes count every orange on a tree but never all the trees in a single orange. -A.K. Ramanujan, poet (1929-1993)


We need your help

Help us continue to spread the magic of words to readers everywhere

Donate