Home
Jan 5, 2006
This week's theme
Words related to time
This week's words
hesternal
perennial
anachronism
yestreen
bimester
---
A Word A Day
the book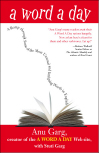 "Delightful."
-The New York Times
Buy now
---

Discuss

Feedback

RSS/XML
---






A.Word.A.Day

with Anu Garg


yestreen
(ye-STREEN)

noun: Yesterday evening.

[From Middle English yester- + even.]

"Late, late yestreen I saw the new Moon,
With the old Moon in her arms;
And I fear, I fear, my master dear!
We shall have a deadly storm."
Ballad of Sir Patrick Spence.

See more usage examples of yestreen in Vocabulary.com's dictionary.
X-Bonus
The problem with being sure that God is on your side is that you can't change your mind, because God sure isn't going to change His. -Roger Ebert, film-critic (b. 1942)
We need your help

Help us continue to spread the magic of words to readers everywhere

Donate