Home
Oct 14, 2005
This week's theme
Eponyms (words coined after people's names)
This week's words
benjamin
maxwellian
cereologist
Heath Robinson
vulcanian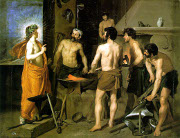 The Forge of Vulcan
Art: Diego Velázquez, 1630
This week's comments
AWADmail 182
Next week's theme
Words about words
---






A.Word.A.Day

with Anu Garg


vulcanian


Vulcanian (vul-KAY-nee-uhn) adjective
1. Relating to a volcanic eruption; volcanic.
2. Relating to metalworking.
The word is coined after Vulcan, the god of fire and metalworking in Roman mythology. Other terms derived from his name are volcano and vulcanization, the process of treating rubber with sulfur and heat to make it more durable.
"Cinq Chansons is a random-sounding score with little sense of line and form; it is not even invigorated by the occasional Vulcanian show of violence that adds interest (however temporary) to the typical solo percussion fantasia."
Arthur Kaptainis; CD Reflects Vivier's Best, Worst; The Montreal Gazette (Canada); May 21, 1988.
X-Bonus
Emancipation from the bondage of the soil is no freedom for the tree. -Rabindranath Tagore, philosopher, author, songwriter, painter, educator, composer, Nobel laureate (1861-1941)
We need your help

Help us continue to spread the magic of words to readers everywhere

Donate