Home
Jul 9, 2002
This week's theme
Yours to discover
This week's words
ubiety
irade
ambit
estival
lanate
---
A Word A Day
the book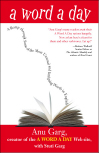 "Delightful."
-The New York Times
Buy it in your country
---






A.Word.A.Day

with Anu Garg


irade
(i-RAH-day)


noun: A decree.
From Turkish, From Arabic iradah (will, desire, wish).
"A second irade on the 23rd of the same month offered full amnesty to the rebels, safe return to the fugitives, protection against all oppression, a free gift of the necessary materials for rebuilding their houses, and corn for sowing their fields, together with remission of the tenth for one year, and of all other taxes for two years."
Wilhelm Mueller; Russo-Turkish War: Part I, History of the World.
X-Bonus
Music hath charms to soothe a savage breast, To soften rocks, or bend a knotted oak. -William Congreve, dramatist (1670-1729)
We need your help

Help us continue to spread the magic of words to readers everywhere

Donate