Home
Thanking our readers for spreading the word (i.e. A.Word.A.Day)
Back in 1994, as a grad student in computer science, when I sent my first email with a word and its biography to fellow grad students, there was no grand plan. It was simply a way to share my love of words with others. Soon I found myself receiving subscription requests from other departments within the university, from other schools, and from other countries.

It has been the same since then -- people learn about A.Word.A.Day from a friend, family member, neighbor, or a colleague. Or from a newspaper or magazine article or interview (link). We've never advertised. It's all word of mouth.

To recognize our readers for helping us spread the word, every month we'll select a reader who sent a gift subscription of A.Word.A.Day for a book giveaway.

Send a gift subscription of A.Word.A.Day

For each gift subscription of A.Word.A.Day you send, you'll receive an entry in the drawing for a signed copy of the book A Word A Day.

"I LOVE AWAD. I received it as a gift subscription -- it is perfect."
-Elizabeth H.

"I've been receiving AWAD for 7+ years now, originally subscribed as a gift from our eldest daughter."
-M. Halverson

As always keep me posted (words@wordsmith.org) on what you like or don't like about A.Word.A.Day.

Thank you for helping spread the joy of words,

Anu Garg
Wordsmith.org
The magic of words
---
A THOUGHT FOR TODAY:

Language is a city to the building of which every human being brought a stone. Ralph Waldo Emerson, writer and philosopher (1803-1882)
A Word A Day, the book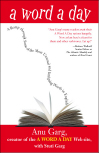 "A delightful, quirky collection."




"Part reference work, part entertainment, English teachers, addicts of Scrabble, solvers of crossword puzzles, and other bibliophages will enjoy this book."




"Garg works in the great tradition of Wilfred Funk and Norman Lewis... Garg, however, is more fun."




"Only Anu Garg, the founder of Wordsmith.org, can make word facts this much fun."


*If you already have this book, we'll send you the sequel, Another Word A Day. If you have both, well, we'll have to write a new book for you.