Home
Jan 1, 2018
This week's theme
Blend words
This week's words
voluntourism
hokum
squirl
satisfice
scrouge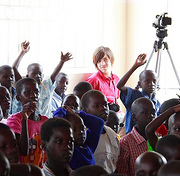 ---






A.Word.A.Day

with Anu Garg

What does an 'infomercial' have in common with a 'motel'? Or a 'workaholic' with a 'paratrooper'? Each of these words is coined by fusing two words together.

Portmanteaux, as these blend words are called, are a bringing together of two or more words. Sometimes the union is perfect (motor + hotel = motel). At other times, it's more like a shotgun marriage, as in today's word, voluntourism.

What portmanteaux have you coined? Share them below or email us at words@wordsmith.org. Many times a word is coined by two people independently -- make sure to google to see if the word you have coined already exists.
voluntourism
PRONUNCIATION:
(vah-luhn-TOOR-i-zuhm)




MEANING:

noun: Tourism in which travelers do volunteer work.




ETYMOLOGY:

A blend of volunteer + tourism. Earliest documented use: 1991.




NOTES:

Many years ago, fresh out of college, I was traveling for a job interview and started chatting with an old man sitting next to me on the train. Somehow the discussion went to volunteer work and when I claimed that sometimes I do selfless work, he said, "Well, son, everything I do is for myself." Years later, I realized the truth of his words.

While voluntourism may be well-intentioned, it may not always be the best way to help. See

here

and

here

, for example. Consider volunteering with specialized organizations such as

Doctors Without Borders

,

Translators without Borders

,

Engineers Without Borders

, etc. or donating to them.




USAGE:

"'We're all voluntourists,' smiled Carrie, brandishing her pitchfork. 'Came down to see what we can do.'"
Tim Lott; Under the Same Stars; Simon & Schuster; 2012.




A THOUGHT FOR TODAY:

What really knocks me out is a book that, when you're all done reading it, you wish the author that wrote it was a terrific friend of yours and you could call him up on the phone whenever you felt like it. -J.D. Salinger, writer (1 Jan 1919-2010)


We need your help

Help us continue to spread the magic of words to readers everywhere

Donate