Home
Jun 16, 2016
This week's theme
Reduplicatives
This week's words
hugger-mugger
argle-bargle
hoity-toity
tussie-mussie
hurly-burly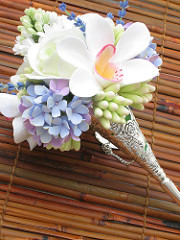 ---






A.Word.A.Day

with Anu Garg


tussie-mussie
PRONUNCIATION:
(TUS-ee-MUS-ee)




MEANING:

noun: A small bouquet of flowers. Also known as a posy or a nosegay.




ETYMOLOGY:

Probably a reduplication of tussy (a small bunch of flowers). Earliest documented use: 1440.




USAGE:

"There were several tussie-mussies on display in the Mixsell House parlor, each with a card indicating the message such a bouquet would have sent."
Christy Potter; Love in the Time of Cholera; Morning Call (Allentown, Pennsylvania); Feb 14, 2016.




A THOUGHT FOR TODAY:

H. sapiens is the species that invents symbols in which to invest passion and authority, then forgets that symbols are inventions. -Joyce Carol Oates, writer (b. 16 Jun 1938)


A.Word.A.Day by email:

Subscribe

"The most welcomed, most enduring piece of daily mass e-mail in cyberspace."