Home
Mar 1, 2016
This week's theme
Well-traveled words
This week's words
personalty
truchman
popinjay
arsenious
brio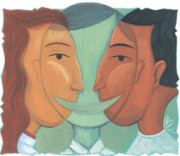 ---






A.Word.A.Day

with Anu Garg


truchman
PRONUNCIATION:
(TRUHCH-muhn)




MEANING:

noun: An interpreter.




ETYMOLOGY:

From Latin turchemannus, from Arabic tarjuman, from Aramaic turgemana, from Akkadian targumanu (interpreter). Earliest documented use: 1485.




USAGE:

"From there Gaveston appears to the audience as a kind of presenter of a comedy, like Hieronimo, a truchman to this political masque."
Michael Hattaway; Elizabethan Popular Theatre; Routledge; 1982.




A THOUGHT FOR TODAY:

We should not be simply fighting evil in the name of good, but struggling against the certainties of people who claim always to know where good and evil are to be found. -Tzvetan Todorov, philosopher (b. 1 Mar 1939)


A.Word.A.Day by email:

Subscribe

"The most welcomed, most enduring piece of daily mass e-mail in cyberspace."