Home
Jan 20, 2016
This week's theme
Clothing terms used metaphorically
This week's words
brass hat
sackcloth
straitlaced
sansculotte
bootleg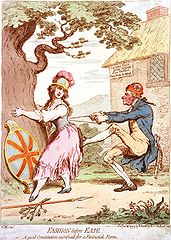 "Fashion before Ease - or - A good Constitution sacrificed for a Fantastick Form"
Thomas Paine tightening Britannia's laces
Cartoon: James Gillray, 1793 (
LOC
)
---






A.Word.A.Day

with Anu Garg


straitlaced or straight-laced
PRONUNCIATION:
(STRAYT-layst)




MEANING:

adjective: Excessively strict, rigid, old-fashioned, or prudish.




ETYMOLOGY:

From Middle English streit (narrow), from Old French estreit, from Latin strictus, past participle of stringere (to bind, draw tight) + laqueus (noose). Earliest documented use: 1630.




USAGE:

"Aren't they the rather dull, unimaginative, straitlaced characters who keep their noses constantly buried in rule books?"

Your Stars;

The Gold Coast Bulletin

(Southport, Australia); Oct 13, 2015.

See more usage examples of

straitlaced

in Vocabulary.com's

dictionary

.




A THOUGHT FOR TODAY:

All art is autobiographical; the pearl is the oyster's autobiography. -Federico Fellini, film director, and writer (20 Jan 1920-1993)


A.Word.A.Day by email:

Subscribe

"The most welcomed, most enduring piece of daily mass e-mail in cyberspace."