Home
Jul 18, 2016
This week's theme
Words related to politics and elections
This week's words
shermanesque
carpetbagger
logrolling
dog whistle
suffrage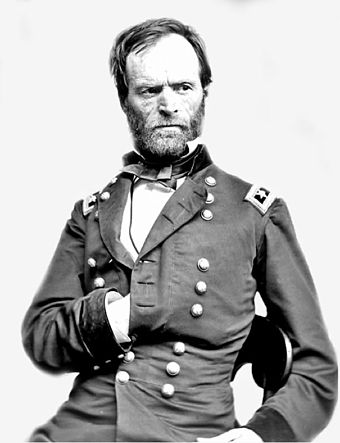 William Tecumseh Sherman
Photo: Mathew Brady, c. 1864
---






A.Word.A.Day

with Anu Garg

Last year, as soon as my daughter, Ananya, woke up on the morning of her 18th birthday, she came running downstairs to my home office.

"How do I register to vote?" she asked.

I showed her how and she filled out the voter registration form. A few days later, the mail carrier brought an envelope with her voter registration card inside. She thought it was the best birthday gift.

When the next election rolled around a few months later, we sat at the dining table with our ballots in hand. We also pulled out the Washington State voter information booklet that came in the mail. We discussed candidates. We read their bios. We researched their positions on various issues. For some local races we didn't find much information so we considered endorsements from other people and organizations.

Then we filled out our ballots. While most of our votes were the same, we differed on some candidates.

It took a couple of hours, but Ananya thought it was fun. In a race for Washington State Supreme Court justice, in which a judge was running unopposed, she filled in the name of a write-in candidate: her dog Flower.

How can we engage more people in politics and elections? I have two suggestions:

1. On their 18th birthday, present students with their voter registration cards in their schools. No need to register. Schools already have their dates of birth and other relevant information.

2. Make the election day a national holiday. Not everyone can afford to take time off from work to go cast a ballot. Even better, make the voting by mail as we have it here in Washington state. No polling booths. No standing in lines. We receive our ballot in the mail a few weeks before the election date and we fill it in at our convenience and mail it back by the election day.

"Just because you do not take an interest in politics doesn't mean politics won't take an interest in you." These words have been attributed to the Greek statesman Pericles. Whoever said it, the words have profound implications.

This week we'll take an interest in politics with words related to politics and elections.
shermanesque
PRONUNCIATION:
(shur-muh-NESK)




MEANING:

adjective:
1. Unequivocal, especially in refusing to run for an office.
2. Brutally thorough, especially in defeating someone.




ETYMOLOGY:

After William Tecumseh Sherman, Union general in the American Civil War. Earliest documented use: 1918.




NOTES:

The Union general William Tecumseh Sherman didn't mince words. When he was being considered as a presidential candidate, he said, "I will not accept if nominated and will not serve if elected." Since then, a categorical statement, especially a denial, is called Shermanesque. Reporters ask politicians if their announcement not to run for an office is Shermanesque to confirm whether they really mean it.
Sherman also didn't beat around the bush when it came to military campaigns. His soldiers destroyed infrastructure, farms, etc. in their wake. So the term Shermanesque is also used to refer to a scorched-earth approach.




USAGE:

"Justin Trudeau's Shermanesque statement -- 'Canada does not - and will not - pay ransom to terrorists, directly or indirectly' -- is likely to be tested the next time a Canadian is taken overseas. And it may not be as categorical as it seems."
Andrew Cohen; Regarding Hostage-Taking, is Justin Trudeau His Father's Son?; The Ottawa Citizen (Canada); May 4, 2016.

"After making a Shermanesque march through the Metro League, the Lakeside boys soccer team continued to roll last night, shutting out visiting Lakes 3-0."
Craig Smith; Lakeside Extends Win Streak; The Seattle Times; May 16, 2001.




A THOUGHT FOR TODAY:

It is never my custom to use words lightly. If twenty-seven years in prison have done anything to us, it was to use the silence of solitude to make us understand how precious words are and how real speech is in its impact on the way people live and die. -Nelson Mandela, activist, South African president, Nobel laureate (18 Jul 1918-2013)


We need your help

Help us continue to spread the magic of words to readers everywhere

Donate