Home
May 15, 2017
This week's theme
Words that aren't what they appear to be
This week's words
sadiron
adoral
lust-house
bodkin
atrophy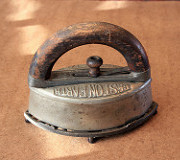 ---






A.Word.A.Day

with Anu Garg

A clock's second hand is really its third hand.
Refried beans are only fried once.
A running joke is the same as a standing joke.
The Mall of America is owned by Canadians.
The President of America is owned by ...

Well, don't look for much sense in naming. And what are words but names for things and ideas. This week we have selected five words that mean something very different from what you think they might mean.
sadiron
PRONUNCIATION:
(SAD-eye-uhrn)




MEANING:

noun: A heavy flatiron pointed at both ends and having a detachable handle.




ETYMOLOGY:

From sad (obsolete senses of the word: heavy, solid) + iron. Earliest documented use: 1759.




USAGE:

"The next day, everything was ironed with a sadiron."
Jean Baggott; The Drama of a Very Ordinary Life; Daily Mail (London, UK); Feb 27, 2010.




A THOUGHT FOR TODAY:

When you re-read a classic, you do not see more in the book than you did before; you see more in yourself than there was before. -Clifton Fadiman, editor and critic (15 May 1904-1999)


A.Word.A.Day by email:

Subscribe

"The most welcomed, most enduring piece of daily mass e-mail in cyberspace."