Home
Jan 6, 2020
This week's theme
Unusual synonyms
This week's words
ombrifuge
exemplum
splanchnic
singultus
indagate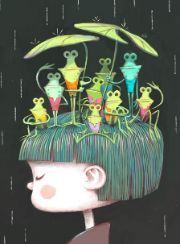 ---






A.Word.A.Day

with Anu Garg

Why not? In many cases, that's a pretty good response to a "Why?"

Why take a dip in icy waters?
Why not?

Why have ice cream for breakfast?
Why not?

That's just a couple of examples, but I think we should use "Why not?" more often, especially when deciding which word to use. Of course, we should use a word only when it fits, but what if there are two words that fit and you want to use the one that's more fun, even if a little obscure?

Why not?

That's our guiding principle in this week's words. We share with you five unusual synonyms of everyday words. What you do with them is up to you. When in doubt, think:

Why not?
ombrifuge
PRONUNCIATION:
(OM-bruh-fyoozh)




MEANING:

noun: Something that provides protection from the rain, especially an umbrella.




ETYMOLOGY:

From Greek ombro- (rain shower) + -fuge (repelling). Earliest documented use: 1869.




USAGE:

"When you are caught in a shower and spot a convenient ombrifuge ... should you run to it or walk?"
The Independent (London, UK); Apr 30, 1998.




A THOUGHT FOR TODAY:

Hate is a dead thing. Who of you would be a tomb? -Kahlil Gibran, poet and artist (6 Jan 1883-1931)


We need your help

Help us continue to spread the magic of words to readers everywhere

Donate