Home
Jun 24, 2019
This week's theme
Words originating in horses
This week's words
hippodrome
horse race
chivalry
warhorse
wrangler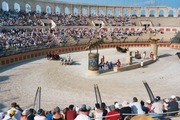 A chariot race in a hippodrome in Puy du Fou, a historical theme park in France
Photo: Midx1004/Wikimedia
Previous week's theme
People with multiple eponyms coined after them
---






A.Word.A.Day

with Anu Garg

You may not be into horses, but chances are you still have a horse or two (or at least their cousins) lying around the house. A bidet is, literally, a pony (from French). An easel is, literally, an ass (from Dutch ezel).

Horses have served us for thousands of years, but today you're more likely to own a four-wheeled 100-horsepower horseless carriage (also known as a car) than a four-legged 1-horsepower version (also known as a horse).

Given their long association with humans, horses continue to lurk around in our language. There's so much named after horses. If you are called Philip, you are, literally speaking, a horse lover, from Greek philo- (love) + hippos (horse). A hippopotamus is, literally, a river horse, from Greek potamos (river). A walrus is, literally, a horse whale, from Old Norse hrosshvalr (horse whale). Hippocampus, a part of the brain, is named so because its cross-section looks like a sea-horse, from Greek kampos (sea monster).

In each of this week's words, there is a horse hiding somewhere.
hippodrome
PRONUNCIATION:
(HIP-uh-drohm)




MEANING:

noun: A stadium for horse races, chariot races, horse shows, etc.
verb tr.: To manipulate or prearrange the outcome of a contest.




ETYMOLOGY:

From Greek hippos (horse) + dromos (running). Ultimately from the Indo-European root ekwo- (horse), which also gave us equestrian and

equitant

. Earliest documented use: 1549.




NOTES:

Match fixing has been around for as long as humans have been having matches. Today's word shows it going as far as ancient horse racing.




USAGE:

"The smaller fairs were the backbone of the IMCA [International Motor Contest Association] schedule and these were routinely hippodromed."

Don Radbruch;

Dirt Track Auto Racing, 1919-1941

; McFarland; 2004.

See more usage examples of

hippodrome

in Vocabulary.com's

dictionary

.




A THOUGHT FOR TODAY:

All men -- whether they go by the name of Americans or Russians or Chinese or British or Malayans or Indians or Africans -- have obligations to one another that transcend their obligations to their sovereign societies. -Norman Cousins, author, editor, journalist, and professor (24 Jun 1915-1990)


We need your help

Help us continue to spread the magic of words to readers everywhere

Donate