Home
Oct 10, 2017
This week's theme
There's a word for it
This week's words
acarophobia
exclosure
untrack
mise en abyme
zetetic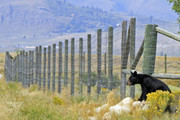 ---






A.Word.A.Day

with Anu Garg


exclosure
PRONUNCIATION:
(ik-SKLO-zuhr)




MEANING:

noun: A fenced area, especially in a wide open area, to keep unwanted animals out.




ETYMOLOGY:

An enclosure keeps wanted animals in, an exclosure keeps unwanted animals out. The word is modeled after the word enclosure, from ex- (out) + closure (barrier), from Latin claudere (to close). Earliest documented use: 1920.




USAGE:

"Kinney chose to organize and direct the construction of a deer exclosure at Maywood Environmental Park. Deer are restricted from the area as a way to study their impact on the vegetation and tree growth at Maywood."
Kinney Earns Eagle Scout; Sheboygan Press (Wisconsin); Aug 30, 2016.




A THOUGHT FOR TODAY:

A profound unmitigated loneliness is the only truth of life. -R.K. Narayan, novelist (10 Oct 1906-2001)


A.Word.A.Day by email:

Subscribe

"The most welcomed, most enduring piece of daily mass e-mail in cyberspace."