Home
Nov 14, 2017
This week's theme
Toponyms from fiction
This week's words
grimgribber
ecotopia
ruritanian
edenic
stepford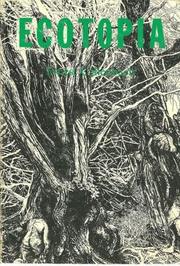 Cover of the first edition of the novel
Image: Wikimedia
---






A.Word.A.Day

with Anu Garg


ecotopia
PRONUNCIATION:
(EE-ko-to-pee-uh, EK-o-)




MEANING:

noun: An ecologically ideal place.




ETYMOLOGY:

From Ecotopia (1975), the title of a novel by Ernest Callenbach. In the book, the word is used to describe the Pacific coast of the US. A blend of eco- + utopia, which itself is the title of Thomas More's 1516 book. Earliest documented use: 1975.




USAGE:

"The development plan calls for a veritable ecotopia ... The neighborhood would tap wind, solar, and perhaps tidal power."
John Coté and Rachel Gordon; Deal on Transfer of Treasure Island; San Francisco Chronicle; Aug 18, 2010.




A THOUGHT FOR TODAY:

Everyone discusses my art and pretends to understand, as if it were necessary to understand, when it is simply necessary to love. -Claude Monet, painter (14 Nov 1840-1926)


A.Word.A.Day by email:

Subscribe

"The most welcomed, most enduring piece of daily mass e-mail in cyberspace."