Home
Feb 12, 2016
This week's theme
Eponyms (words coined after people)
This week's words
maecenas
guy
victorian
gongorism
Addisonian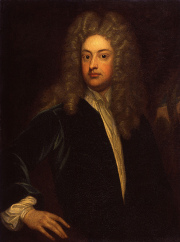 Joseph Addison
Art: Godfrey Kneller
This week's comments
AWADmail 711
Next week's theme
Words formed in error
---






A.Word.A.Day

with Anu Garg


Addisonian
PRONUNCIATION:
(ad-uh-SO-nee-uhn)

MEANING:
adjective: Having clarity and elegance.
ETYMOLOGY:
After Joseph Addison (1672-1719), English essayist and poet. Earliest documented use: 1789.
NOTES:
Some aphorisms by Addison:
What sculpture is to a block of marble, education is to a human soul.

Three grand essentials to happiness in this life are something to do, something to love, and something to hope for.

Content thyself to be obscurely good. When vice prevails, and impious men bear sway, the post of honor is a private station.



USAGE:

"Murray Kempton enjoyed being in a group of reporters; he liked to try out ideas for columns, dropping fully formed Addisonian sentences into conversation to see which ones got a nod or a laugh. The winners turned up in the next day's paper."
David Von Drehle; A Journalist's Singular Voice; The Washington Post; May 6, 1997.




A THOUGHT FOR TODAY:

I own that I cannot see as plainly as others do, and as I should wish to do, evidence of design and beneficence on all sides of us. There seems to me too much misery in the world. I cannot persuade myself that a beneficent and omnipotent God would have designedly created the Ichneumonidae with the express intention of their feeding within the living bodies of caterpillars, or that a cat should play with mice. -Charles Darwin, naturalist and author (12 Feb 1809-1882)


We need your help

Help us continue to spread the magic of words to readers everywhere

Donate