Mar 15, 2007
This week's theme
Words related to the number 13 to mark the thirteenth anniversary of Wordsmith.org
This week's words
tridecennary
triskaidekaphobia
bakers dozen
rondeau
trecento
---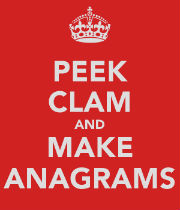 Make anagrams here
---






A.Word.A.Day

with Anu Garg


baker's dozen
(BAY-kuhrs DUZ-uhn)

noun: A group of 13. Also known as a long dozen.
From the fact that bakers often gave an extra item when selling a dozen of something to safeguard against being penalized for light weight.
"Mr. Blodget, the Merrill Lynch Internet stock analyst, stopped covering the stocks of four more dot-com companies last week, reducing his universe, which once comprised more than 20 companies, to a mere baker's dozen."
Patrick McGeehan; The Shifting Fortunes Of a Prognosticator; The New York Times; Jul 1, 2001.
See more usage examples of baker's dozen in Vocabulary.com's dictionary.
X-Bonus
Tomatoes and oregano make it Italian; wine and tarragon make it French. Sour cream makes it Russian; lemon and cinnamon make it Greek. Soy sauce makes it Chinese; garlic makes it good. -Alice May Brock, author (1941- )