Help Spread the Joy of Words & Win a Book
See book reviews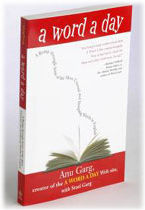 For each gift subscription of A.Word.A.Day you send, you'll receive an entry in the drawing for this book.

Select addresses from your Outlook addressbook
or
Mac addressbook
or
Type the addresses yourself

As thanks for helping us spread the joy of words, every month we give away a signed copy of the book A Word A Day, published by John Wiley & Sons.
What They Say

"The most welcomed, most enduring piece of daily mass e-mail in cyberspace."




"A Word A Day keeps boredom away."




"A truly globe-circling cyber-phenomenon."




"I love AWAD. I received it as a gift subscription -- it is perfect." -Elizabeth H.